Last Updated: 2020.06.27
Northern Japan
Full disclosure - I personally have not visited Sapporo. While I can point out certain stores in Sapporo, I don't have personal experience of having gone there so I can't make any suggestions or recommendations.
Sapporo
Volks [Tax Free 5000 JPY]
The store is on the B2 floor of a tall corner shopping mall. The tax free paperwork is handled in the building across the street.
Sendai
Volks - The building you're looking for is "EBeanS". It's a very short walk from the Sendai train station.
Gee! Store - It's a short walk from the EBeanS building.
Utsunomiya
Utsunomiya is about an hour away from Tokyo via the Shinkansen. As for the stores, both Volks and Mandarake
[Tax Free 5000 JPY]
are located in the same building on different floors. The building you're looking for is the
Festa
building.
---
Tokyo
Akihabara
Akihabara Radio Kaikan
: Volks Dollpoint (8F)
[Tax Free 5000 JPY]
, Azone Label Shop (7F), one of the DOLK (7F) stores, and Dolly Teria (5F) are all located in this building. The selection of dolls and related items will be limited but there's a Jungle (7F) store in the building as well. Amiami (4F) offers a selection of Azone, Obitsu, and Nendoroid dolls.
Mandarake Complex
:
[Tax Free 5000 JPY]
It's a tall building. The doll section is on the second floor.
Gee! Store
: This store is a little hard to find but see the photo below so you'll know what to look for. The first floor of this building has nothing but Gachapons so you wouldn't think to look here for doll products. Just go in and there are both stairs and an elevator at the back end of the building. Go to the 4th floor to shop for doll products.
DOLK
: This location of DOLK is separated into two floors. You can't get to the second floor from the first. Finding the first floor of the store is the easy part. After you're done visiting the first floor, exit the store. Turn right and go forward. Turn right at the next corner. On your right, you'll see an entrance which will go upstairs. Go up the stairs to the second floor.
From-SEN
: This store is also in an easy to miss building. Find the place at the image below, and then go up the stairs. (Image stolen from
here
.)
The second store you'll want to go to is Parabox (3F). Just be careful about what day of the week you visit. Parabox is closed on Wednesdays. If you're paying by credit card, take 10% off the listed price tags. If you're paying by cash, take 15% off.
---
---
Nagoya
DOLK and Azone Label Shop are
in the same building
on different floors.
There's also
Mandarake
.
[Tax Free 5000 JPY]
Yumemi-Tei
: 50cm dolls, Pulips.
Gee! Store Nagoya
Volks Nagoya Showroom
[Tax Free 5000 JPY]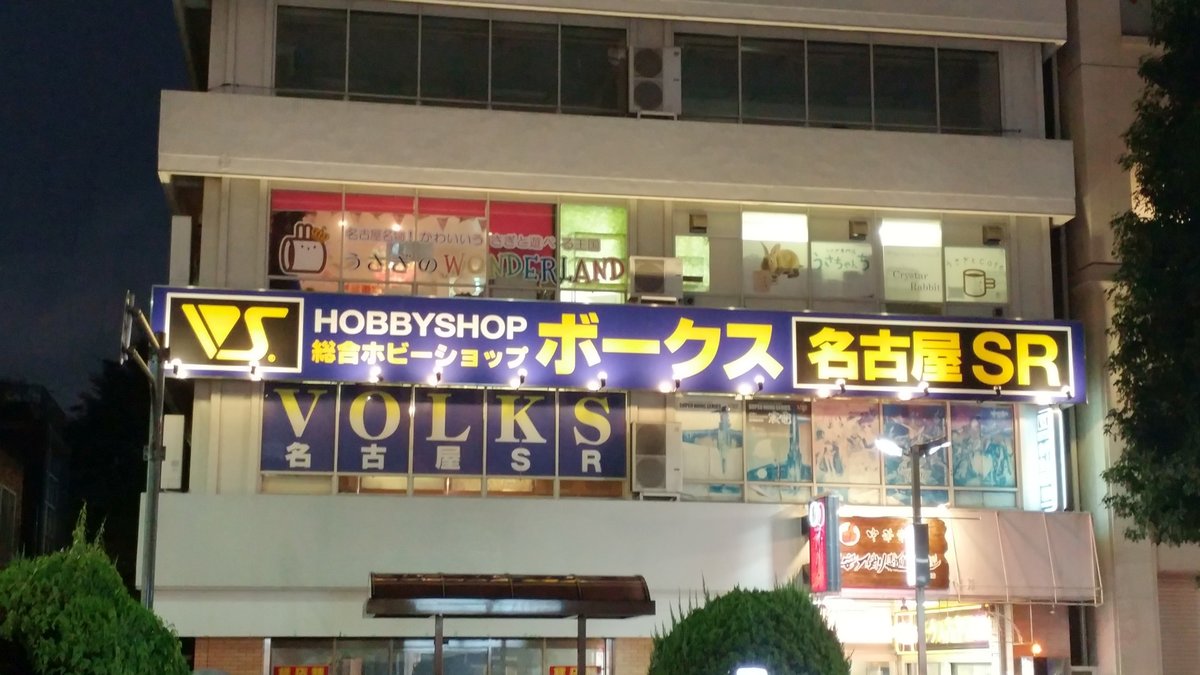 ---
Osaka
DOLK
: This is the DOLK headquarters store. The store is not located along the main road so you'll need to walk through one of the side streets to get here. You'll see which building it is. Once you do, use the entrance and there will immediately be a flight of stairs. Go to the third floor.
Volks Osaka Showroom
:
[Tax Free 5000 JPY]
You can't miss it.
Jungle
:
[Tax Free 5000 JPY]
Not a large selection but still worth visiting.
Azone Label Shop Osaka
: This store is located on the 4th floor of the Kotobukiya Building.
Gee! Store Osaka
Mandarake Grandchaos
:
[Tax Free 5000 JPY]
No matter which subway station you choose to get off at, you'll do some walking. I recommend getting off at Shinsaibashi station, and then walk south. If you'll look at the map, you might think other stations are closer to the store. The catch is, navigation will be much harder if you choose to get off at other stations.
Mandarake Umeda
:
[Tax Free 5000 JPY]
While all the other stores in Osaka mentioned above are either clustered together or within a manageable walking distance from one another, you're not walking to Umeda. You'll need to take the subway. Get off at Umeda station. Once there, assuming you have a smart phone, use its navigation feature. Depending on which subway exit you use, navigation without a smartphone will range from difficult to impossible. Once you find the correct path, it's a straight line to the store. The problem is finding that correct path, so that's why I'm recommending smart phone navigation - ESPECIALLY if you can't read Japanese.
Cadre d'or
: While this is more of a doll cafe than a store, I decided to include it here because I don't think there are enough doll cafes for me to make a doll cafe tourist guide. The
web site
says you can buy consignment doll items. However, the main draw is sitting down, enjoying a slice of cake with coffee/tea/whatever, taking photos of your dolls, and generally relaxing in the environment. You don't pay for the cake itself directly. You pay for the time you spend there. 1000 JPY for the first hour (1500 JPY on Sat/Sun/Holidays), 500 JPY for each additional hour, with a cap of 3500 JPY. Whatever the choice of your drink, you get unlimited refills. 1 slice of cake per visit. If you have a BJD with an elastic which need to be replaced *AND* if you pay for spending time at the cafe, you can take advantage of getting your doll re-strung for no additional fee. You'll have to bring your own replacement elastic, though.
---
Osaka area (but not in Osaka itself)
Kyoto
Tenshi-no-Sato, Kachuuan
: The hours/days of operations are limited. If you insist on visiting, make sure the museum's schedule says it's open on the day you want to visit. There's a "
for overseas customers
" page at the Super Dollfie web site. Overseas visitors need to sign up for the VS/VIP membership and get the one-day pass.
Volks Corporation
corporate headquarters / Hobby Square Kyoto: In addition to the corporate offices, there's a diorama display on the first floor, a model train store also on the first floor, and all other Volks products on the second floor. It will be a slight letdown if you're only looking for doll products.
Parabox Kyoto
: Same rules as the Musashi-Kosugi and Nakano locations apply. Closed on Wednesdays, 10% off credit, 15% off cash. The entrance to this building ("Tohbeh") can be tricky to find so I posted some photos below. While they might look the same, they are from two different entrances of the same building.
Kobe
Volks Kobe Showroom
: This Volks location is in a shopping center with three sections. They are San Plaza, Center Plaza, and Center Plaza West. Volks is on the third floor of Center Plaza. In the image below, look at 3F #1 and #2.
---
Hiroshima
Volks Hiroshima Showroom
: Your primary method of transportation will be a flat-rate bus/street car. Take the bus from the
Hiroshima station
to
Kamiya-cho Nishi
(or
Higashi
).
---
Fukuoka
Kokura
Once you exit the train station north, you'll see a few statues outside. If you do not see these statues, you went out the wrong station exit.
Aru Aru City
. This is a shopping mall with a variety of stores. Mandarake
[Tax Free 5000 JPY]
and Jungle are inside.
Tenjin
Volks Fukuoka Showroom
: The showroom is on the 4th floor.
Dollce
: Same hours as the Akihabara store: Monday 17:00 - 20:00, Fri/Sat/Sun/Holidays 12:00 - 20:00. I can't remember which floor was which. One of the floors is the office. The other floor is the retail store.
Mandarake
:
[Tax Free 5000 JPY]
The doll items are on the second floor.
Doll Shop Eden
: This is a BJD shop specializing in dolls from China and Korea. Store days and hours are very limited so you'll need to do some planning. The
store calendar
explains when the store will be open (in Japanese). If you can't read what's there, just look at the days with a star on them. The store is usually open on "star" days from 3PM (15:00) to 6PM (18:00). On some days, the store is open from 1PM to 4PM. Even if you can't read Japanese, you can tell which days are open from when to when by looking at the corresponding day below the calendar. "15~18" or "13~16" are the open hours. The day marked with a wrapped present is a special event day at the store.
Gee! Store Fukuoka
: Located in the Nakamuraya building.
---
Final Thoughts
If you're reading this, odds are good you have a non-Japanese passport. Make sure to have it with you to take advantage of tax free shopping.
All
Mandarake
stores offer tax free shopping if you purchase at least 5000 yen.
The Volks stores offering tax free shopping (with a purchase of at least 5000 yen) are
Sapporo, Akihabara
,
Osaka
, and
Nagoya
. The others do not. Please keep that in mind if you're taking a tour of the country and want to buy something at every Volks location you visit
.
I confirmed the Osaka location of Jungle has tax free shopping with a pre-tax minimum purchase of 5000 yen. I haven't confirmed whether this is the case with other Jungle locations.
The
Mirai Store
in Gotanda has tax free shopping with a minimum purchase of 10,000 yen.
Make sure to get a credit card which doesn't have foreign transaction fees before leaving for your trip.
I know I didn't include all stores you could possibly buy doll related items from throughout Japan. I know I missed *something*. If I need to update my rambling above, I will.
Hopefully, what I rambled on here will be useful to *someone*.